This beautiful cake is a tasty treat for a special occasion or holiday, and perfect in spring especially! It's easy to make, and great for sharing with friends. Go Ahead…Play With Your Food!
Cake:
Haskap Cream Cheese Buttercream:
2 Tbsp Olive Us Blood Orange Olive Oil (or our Lemon Fused, or Persian Lime olive oil)

1/2 cup butter, at room temperature

½ cup cream cheese, at room temperature

Zest of 1 orange

2 tsp vanilla

3 cups icing sugar

1/4 tsp cream of tartar

6 Tbsp haskap compote (or strawberry, raspberry, or blueberry compote), divided in 3
Topping (optional):
1 cup long shred, unsweetened coconut, toasted
Preheat oven to 375F. Oil and flour 3 9in round cake pans.*
In a large bowl whip together the eggs and sugar until light and fluffy (about 2 minutes). Slowly drizzle in the olive oil while beating with the hand mixer until fully incorporated. Add the vanilla, yogurt, zest, and juice. Mix until incorporated. Sift in flour, baking powder, and salt in 3 additions and stir until just combined. Scrape the bowl and stir briefly to incorporate.
Pour batter evenly between the prepared cake pans. Bake for 20 minutes, until the tops are very lightly browned and a toothpick comes out clean. Remove from the oven and let cool on a wire rack.
While the cake is cooling, make the icing. In a large bowl, whip together the butter, cream cheese, and olive oil. Mix in zest and vanilla. Add the cream of tartar and icing sugar in 3 additions and whip until light and fluffy.
Once cooled, place the first layer on a plate or serving dish. In a small bowl, take 1 cup of the frosting and stir in 2 Tbsp of the compote. Spread half of the mixture on the first layer and then spread on 2 Tbsp of the compote. Add the second layer of cake and repeat steps. Add the third layer of cake and spread over the remaining frosting on the sides and top, smoothing it with a knife into an even layer all around. If topping with toasted coconut, take a small handful of coconut and gently press it on the sides of the cake, turning the cake as you go until completely covered. Serve and enjoy!
*This cake will easily fit in 2 9in pans instead of 3 if only 2 layers are desired, but the baking time will need to be extended by several minutes!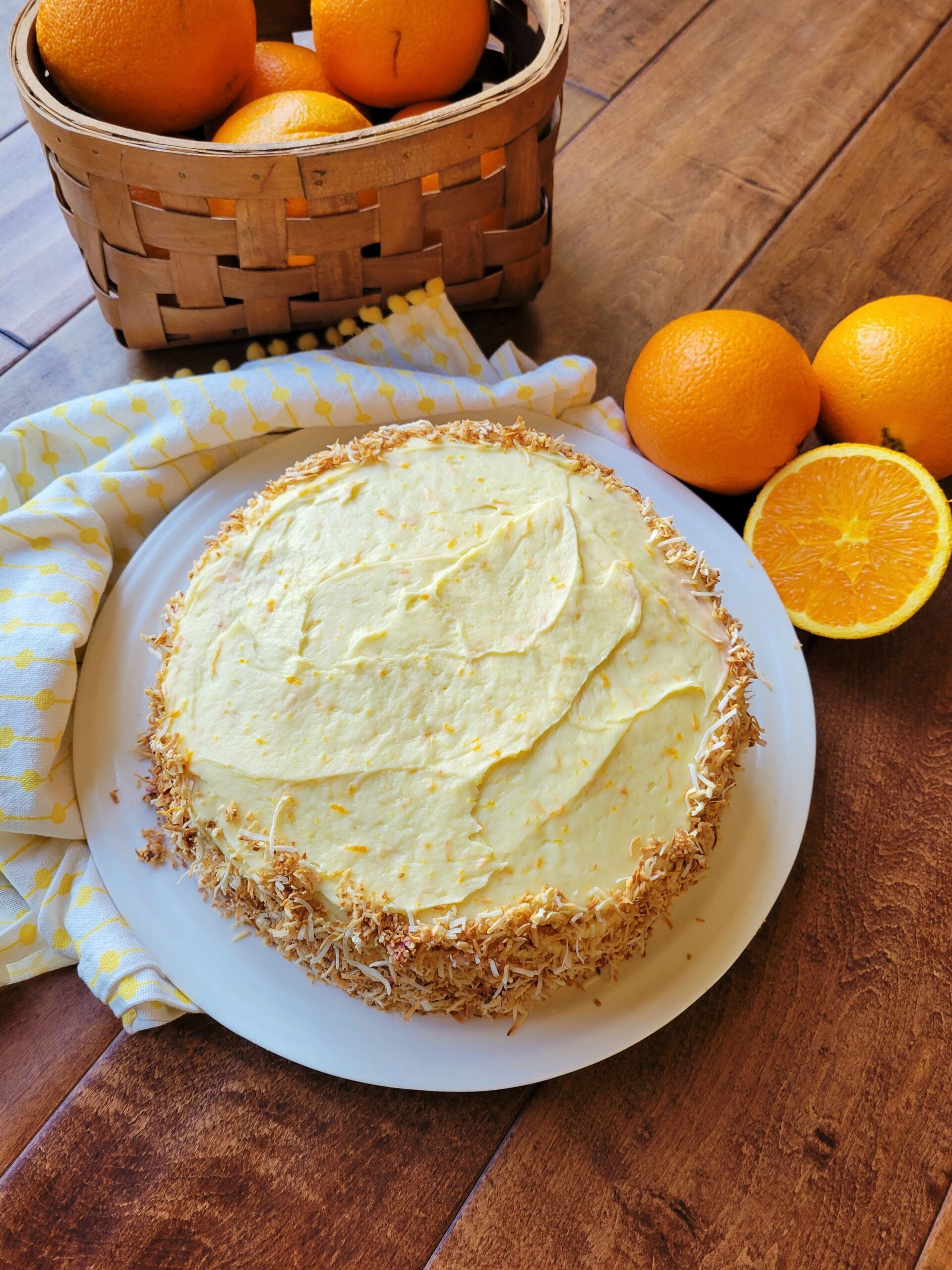 Cake adapted from https://www.halfbakedharvest.com/wprm_print/75805