This delicious soup is creamy and super easy to make. A fast, weeknight meal that the whole family will love!
Ingredients:
3 Tbsp Olive Us Garlic Olive Oil (or Basil, Lemon, or Tuscan Herb)

1 shallot, diced

6 cloves garlic, smashed

Chili flakes, to taste

2 Cups dry Lemon Garlic Orzo (find it at Olive Us!)

6-8 cups* chicken, turkey, or vegetable broth

1 can white beans (cannellini, butter beans, etc.)

1/2 cup basil pesto (find our recipe here) 

1/2 bunch kale, roughly chopped

1/2 cup whole milk or full-fat canned coconut milk

1 cup grated parmesan

Zest and juice of half a lemon

Olive Us Garlic Sea Salt, to taste

Pepper, to taste
In a large pot, heat the olive oil over medium-high heat. Add shallot and garlic and sauté for 3-4 minutes until it's just lightly browned. Stir in the orzo and chili flakes and cook until chili flakes are fragrant and the orzo is very lightly browned, about 2 minutes. Carefully stir in the stock and bring to a boil. Stir in the beans and reduce to a simmer. Cook for 10-12 minutes or until the orzo is cooked through. Stir in the pesto, kale, milk, parmesan, lemon juice, and zest. Allow to heat through and season to taste. Spoon into bowls and top with extra parm, some crispy prosciutto (optional), and fresh herbs!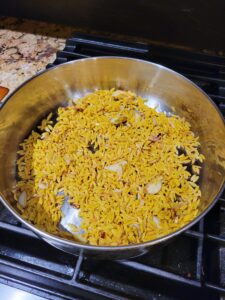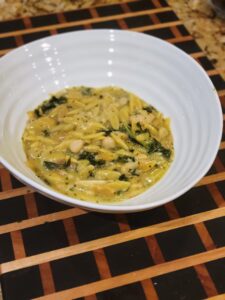 *depending on the consistency of soup you're looking for
Adapted from Half Baked Harvest