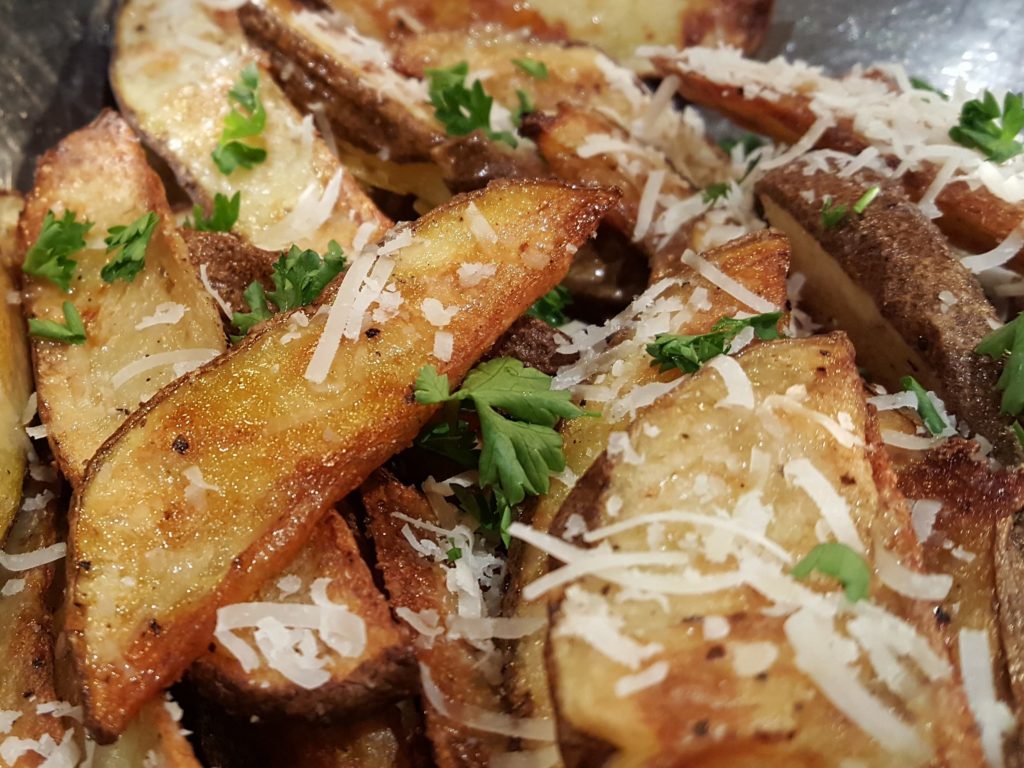 Olive Us Truffle Parmesan Fries
All we can say is… make lots because you and your friends will LOVE these!!
Ingredients:
3 – 4 large russet potatoes (about 2 1/2 – 3lb)
3 Tablespoons Olive Us Extra Virgin Olive Oil (EVOO)
1 – 2 teaspoons sea salt
1/2 teaspoon freshly cracked pepper
1 – 2 Tablespoons Olive Us White or Black Truffle Oil
1/4 cup freshly grated parmesan
1/4 cup fresh parsley, chopped
Directions:
Preheat oven to 425 degrees F. Leave the skin on the potatoes. Cut each potato in half lengthwise, then cut each half in half lengthwise.  Cut each quarter of potato lengthwise into 3 wedges, making 12 wedges per potato.  Try to keep wedges fairly similar in size.
Put all the potato wedges in a large bowl and toss with 3 Tablespoons EVOO. Sprinkle with salt and pepper and toss again. Lay the wedges out onto 1 – 2 baking sheets without crowding too much. Roast for 15 minutes. Turn each wedge over and roast another 15 minutes or until browned and tender.  Remove the hot fries from the pan and toss in a bowl with the truffle oil, grated Parmesan and chopped parsley.  Serve immediately with aioli (see aioli recipes from Olive Us).