A hearty and flavourful dish that knocks comfort food outta the park! Try this on a cool fall evening or curled up next to the fire on a winter's night! It's well worth the bit of extra effort to stuff the pasta shells. If you're looking to lighten the meal up, try serving it alongside a tossed green salad dressed with our Cherry Dark Balsamic and Basil Olive Oil! Delish!
Pasta
1/2lb Large Plain Pasta Shells, about 25-30 shells (find them at Olive Us!)
Hearty Meat Sauce
1/4C Olive Us Garlic Olive Oil (or Tuscan Herb, Basil, or Single Varietal EVOO)

1 medium onion, diced

4 cloves garlic, minced or crushed

1 medium zucchini, diced

5-10 cremini mushrooms, diced

1lb ground beef or turkey

1 small can (156ml) tomato paste

½ tsp dried chili flakes

1 tsp smoked paprika

¼ tsp nutmeg

2 tsp fresh rosemary, minced (or 3 tsp dried)

3 sprigs fresh thyme (or 1 tsp dried)

2 tsp Olive Us Garlic Sea Salt (or Garlic Scape Salt)

1/2C red wine

1 large can (28oz) whole or chopped tomatoes (we used San Marzano style tomatoes)
Creamy Eggplant Filling
Topping
2C grated parmesan*

3/4C bread crumbs (optional)
Bring a pot of salted water to a rolling boil. Add the pasta shells and cook for about 10-12 minutes or until al dente.
While the pasta is boiling, make the meat sauce. In a large saucepan over medium-high heat, heat the olive oil and add the onion, garlic, and zucchini. Saute for about 7-8 minutes until the vegetables are cooked through, but not browned. Add the mushrooms and cook for another 2-3 minutes. Add the tomato paste, spices, and herbs and stir to combine thoroughly. Add the ground beef and stir to break it up so it cooks more evenly. Cook for 5-8 minutes until mostly cooked through. Deglaze the pan with the  wine and balsamic and then stir in the tomatoes. Continue cooking the sauce for 10-15 minutes at low to medium heat until the sauce has thickened and the meat is well cooked through.
Preheat the oven to 350F. In another large saucepan over medium-high heat, make the filling. Add the olive oil and heat until it shimmers. Add the eggplant and a couple tablespoons of water and cover for 7-8 minutes, stirring as needed, until lightly browned. Deglaze the pan with the balsamic, then add the cream cheese, cream, sun dried tomatoes, salt, and parmesan. Stir frequently as the cream cheese melts to ensure it's evenly distributed. Remove from heat and stir in the basil. Set aside.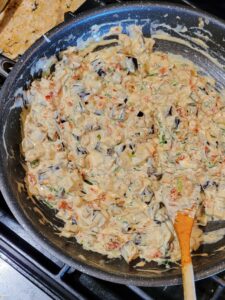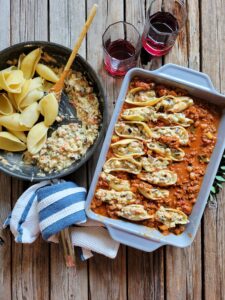 Drain the pasta and spray it with cool water so the shells can be handled, then put them back in the pot. Oil the shells generously so they don't stick. In a large, heat proof casserole or baking dish, pour in the meat sauce and spread into an even layer on the bottom. To stuff the shells, add 1-2Tbsp of filling to each shell (stuff them full), and one at a time, nestle them into the meat sauce so their sides are largely covered. This will prevent them from drying out while baking. Once all the shells are stuffed and placed, top the pan with the parmesan and bread crumbs (if using). Bake for 25-30 minutes, until the sauce is bubbling and the top is browned. Serve immediately and enjoy!
Serves 6.
*A number of different cheeses work well for this dish. If you don't have parmesan on hand, try using pizza mozzarella, Jarlsberg, Emmental, or Gruyere.