A rich and deliciously creamy dish that will satisfy all seafood cravings. Ideal for cold winter nights when comfort food is a must. This is also a great dinner party dish to serve alongside a simple green salad dressed with Olive Us Dill Olive Oil and Sicilian Lemon Balsamic. Go ahead…play with your food!
Pasta
1/2 lb Large Plain Pasta Shells, about 25-30 shells (find them at Olive Us!)
Filling
4 Tbsp Olive Us Dill Olive Oil, divided

1 (340g) package prawns, thawed, peeled, and cut into 3-4 pieces

1/2 lb scallops, halved (or quartered depending on size)

1/2 lb canned, fresh, or frozen crab meat

1 medium zucchini, diced

1 medium shallot, minced

1/4 C fresh dill, minced

1 C mozzarella, Jarlsberg, or Gruyere

250g brick cream cheese, cubed

1/4 C heavy cream or whipping cream

1 Tbsp Olive Us Champagne Vinegar
1 tsp Olive Us Garlic Sea Salt (or Scape, Onion, or Himalayan Pink Salt)

pepper to taste

pinch of dried chili flakes
Sauce
Topping
1/2 C parmesan

1/2 C bread crumbs

1/4 C fresh parsley, minced
Bring a pot of salted water to a rolling boil. Add the pasta shells and cook for about 10-12 minutes or until al dente.
While the pasta is boiling, make the filling. In a large skillet over medium-high heat add 1 Tbsp of the Dill olive oil and zucchini. Sauté for 5-6 minutes then add the shallot and Champagne vinegar, cook for another 2 minutes until very lightly browned. Remove from heat and add cream cheese and cream. In another large skillet over high heat add 2 Tbsp of the Dill olive oil and the prawn pieces. Sauté for about 4 minutes or until just cooked through. Add to the zucchini pan. In the empty large skillet, add the remaining olive oil and cook the scallops over high heat for about 3 minutes or until just cooked through. Add to the zucchini pan. Put the zucchini pan back over medium heat, add the crab, and warm until the cream cheese is melted. Add the dill, cheese, chili flakes, salt, and pepper and stir to combine thoroughly. Remove from heat.
Preheat the oven to 350F. Drain the pasta and spray with cold water so the shells can be handled, then put them back in the pot. Oil the shells generously so they don't stick.
In a large saucepan over medium heat, add the olive oil and shallot. Sauté for 1 minute, stirring intermittently, and not allowing the shallot to brown. Add the minced mushroom, and sauté for 4 minutes. Stir in the flour to create a roux. Stir constantly for about 2 minutes (again, ensuring the heat is kept at medium so the flour and garlic don't burn). Deglaze the pan by adding the white wine and whisking quickly. Pour in the milk, stirring quickly with every addition to avoid creating lumps. Once the milk is all stirred in, let the sauce come to a low simmer, stirring frequently as it thickens. Once thickened (about 5 minutes), add salt and pepper to taste and remove from heat.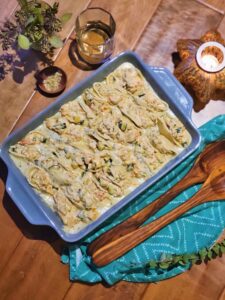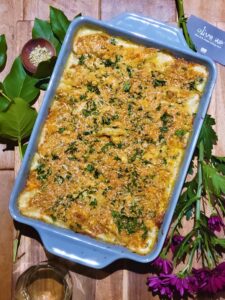 In a large, heat proof casserole or baking dish, pour in the mushroom sauce and spread into an even layer on the bottom. To stuff the shells, add 1-2 Tbsp of filling to each shell (stuff them full), and one at a time, nestle them into the sauce so their sides are largely covered. This will prevent them from drying out while baking. Once all the shells are stuffed and placed, top the pan with the parmesan, bread crumbs, and parsley. Bake for 25-30 minutes, until the sauce is bubbling and the top is golden brown. Serve immediately and enjoy!
Serves 6.