These delectable cookies are like a cross between sugar cookies and shortbread! Using any of our fresh citrus olive oils, such as Blood Orange, Persian Lime, Lemon makes these versatile and oh, so delicious!! Put the lime in the coconut and eat it all up!
1 Cup Butter, softened

1 Cup White Sugar

1 Cup Icing Sugar

4 Cups White Flour

1 Teaspoon Cream of Tartar

1 Teaspoon Vanilla

1 Teaspoon Baking Soda

1 Teaspoon Sea Salt

2 Eggs

1/2C long shred coconut
Thoroughly cream oil, butter and sugars.  Add vanilla and eggs and mix. Sift all dry ingredients together and stir into mixture.
Chill dough for at least one hour (or keep refrigerated, using as needed). When ready to prepare for baking, roll 1 tsp of dough into a ball for each cookie. Roll the ball into a bowl of coconut and place onto a parchment lined cookie sheet.
Bake for 12 minutes at 350F.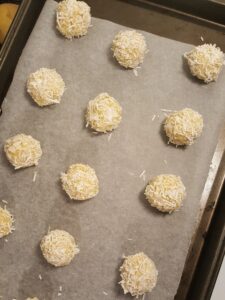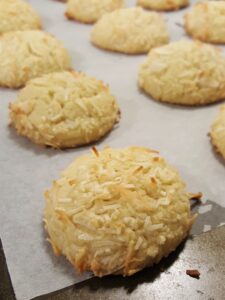 Makes about 5-8 dozen depending on size of balls.