A variation on Julia Child's famous dish, your house will be filled with warm stewing scents of wine, garlic, and braised beef! Such a good meal on a chilly winter's day or any time of year you're craving a hearty stew. Soak up the sauce/gravy with a slice of thick-crusted, good bread or pour it over mashed potatoes, spaetzle, or pasta.
2 Tbsp Olive Us Garlic Olive Oil, divided
1/2 lb bacon, roughly chopped
3 lbs beef brisket, chuck steak, or stewing beef, cut into 2-inch chunks
2 large carrots, in 1cm slices
2 stalks celery, in 2cm slices
1 large yellow onion, diced
6 cloves garlic, minced
1 pinch Garlic Scape Salt (find it at Olive Us!) and freshly ground pepper
2 tablespoons flour
3 cups red wine like Merlot, Pinot Noir, or a Chianti (or 2 cups for a milder sauce and 3 cups of stock)
2-3 cups beef, turkey, or chicken stock (if using 2 cups of wine, use 3 cups stock)
2 Tbsp Olive Us Fig Dark Balsamic
2 tablespoons tomato paste
1 beef bullion cube, crushed
1 teaspoon fresh thyme, finely chopped
2 tablespoons fresh parsley, finely chopped
2 bay leaves
Mushrooms:
1 pound cremini mushrooms, in thick slices
3 cloves garlic, minced
2-3 Tbsp Olive Us Single Varietal, Garlic, or Tuscan Herb Olive Oil
Preheat the oven to 350F.
Heat 1 Tbsp of the olive oil in a large dutch oven* or heavy based pot. Sauté the bacon over medium heat for about 5 minutes, until crisp and browned. Transfer the bacon to a large dish and set aside.
Pat the beef dry with a paper towel and sear in batches in the hot oil/bacon fat until just browned on both sides. Remove to the dish with the bacon.
Add the remaining Tbsp of olive oil and sauté the carrots, celery, and onions for about 4 minutes, until softened and slightly browned. Add the minced garlic and cook for 1 minute. Return the bacon and beef back into the pot, season with the salt and pepper, and sprinkle with flour. Toss well and cook for 4-5 minutes to brown.
Add the wine and stock, enough so that the meat is barely covered. Then add the balsamic, tomato paste, bullion and herbs. Bring to a simmer on the stove.
Cover with a heavy lid, put it in the lower part of the oven, and simmer for 2 to 3 hours, or until the meat is fall apart tender (adjust the heat so that the liquid simmers very slowly— we reduced the temperature to 300 part way through to ensure it remained at a simmer, not a boil. If the dish boils the meat will become very tough).
In the last 10 minutes of cooking time, prepare your mushrooms. In a large saucepan over medium-high heat, heat the olive oil. Add the mushrooms and cook for about 5 minutes or until lightly browned. Add the minced garlic and saute until mushrooms are browned. Remove from heat and set aside.
Remove the dutch oven and check the meat for tenderness. Once tender (about 2-3 hours), discard the bay leaves and ladle as much of the liquid as possible into a saucepan and make a gravy (mixing in cornstarch or flour 2 tsp at a time and cooking until it reaches desired consistency). Taste and adjust seasonings as desired. Add the mushrooms to the meat and stir in. Stir the gravy back into the meat and mushrooms and serve immediately while hot.
To make it a day ahead, cool the dish appropriately (in a food safe manner, ensuring the meat is not cooling off for more than 2-3 hours. This is best done by separating the dish into several portions so it cools faster and then putting those in the fridge once cooled). Remove the dish from the fridge an hour before serving and reheat over medium-low, stirring intermittently and letting it simmer for 10 minutes before serving.
*This dish is best made in a very heavy bottomed pot with a heavy lid, such as a dutch oven. If the lid has a hole or doesn't sit on the pot correctly, too much steam will escape and the dish will be dry.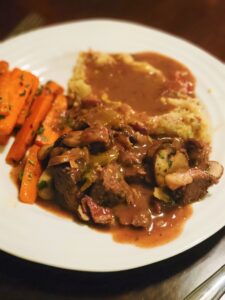 Adapted from https://cafedelites.com/wprm_print/49336.