We love making layer cakes on birthdays and special occasions when you want a beautiful centerpiece to gather around. This chocolate cake is moist and rich, but not too sweet.* It's generously covered with dark chocolate espresso frosting that will leave you licking the plate!
Cake:
1 cup boiling hot coffee
1 cup unsweetened cocoa powder, sifted
2 1/2 cups all-purpose flour, sifted
1 cup sugar (we use organic cane sugar)
1 1/2 tsp baking powder
1 tsp baking soda
1 tsp salt
3 large eggs, room temperature
3/4 cup Olive Us Single Varietal Extra Virgin Olive Oil (or Butter or Blood Orange Olive Oil)
1/2 cup full fat Greek yogurt
2 tsp vanilla extract
1/2 cup milk
1 Tbsp Olive Us Chocolate Dark Balsamic (or Espresso Balsamic)
Frosting:
1 1/2 cup butter, room temperature
2 cups icing sugar, sifted
3/4 cup unsweetened cocoa powder
2 tsp instant coffee, dissolved in 2 tsp water
2 tsp vanilla extract
1-2 Tbsp heavy cream
Preheat the oven to 350 degrees F. Coat two 9-inch-round cake pans with olive oil and sprinkle with flour. Tilt and tap the pans to disperse the flour in a thin, even layer around the bottom and edges. Turn the pans upside down and tap to discard any excess flour.
Whisk the cocoa powder and coffee in a medium bowl until smooth. Set aside. Add the balsamic vinegar to the milk and set aside. Whisk the flour, sugar, baking powder, baking soda and salt in a large bowl until combined. Add the eggs, olive oil, yogurt and vanilla and beat with a mixer on medium speed until smooth, about 1 minute or by hand with a whisk. Reduce the mixer speed to low, beat in the cocoa mixture and buttermilk in a steady stream until just combined, then finish mixing with a rubber spatula. (The batter will be somewhat thin.)
Divide the batter between the prepared pans and tap the pans against the counter to help the batter settle. Bake until a toothpick inserted into the middle comes out clean, 25 to 35 minutes. Transfer to racks and let cool for 10 minutes, then run a knife around the edge of the pans and turn the cakes out onto the racks to cool completely.
Frosting: Whip the butter with a hand mixer on high until it's light and fluffy, about 2 minutes. Sift in the icing sugar and cocoa powder in 3 additions, beating on high. Scrape down the sides of the bowl between each addition. Beat the vanilla and instant coffee into the icing. Add the heavy cream based on how dense or airy you prefer your frosting.
Assemble the cake: Put 1 cake layer on a platter and spread frosting on top in an even layer* (don't neglect the edges!). Top with the second cake layer and press down gently. Spread a layer of frosting over the sides of the cake and then add the rest to the top and spread into an even layer. Swirl the top if you're feeling fancy!
*If you want a fruitier cake to lighten things up you can add a layer of raspberry compote or jam and top with fresh raspberries. Or for a richer filling, you can add a layer of our Bourbon Vanilla Caramel in the middle and a drizzle over the top.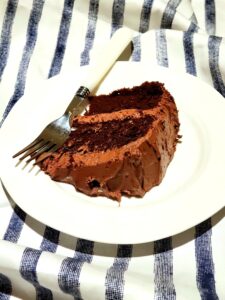 Adapted from Half Baked Harvest