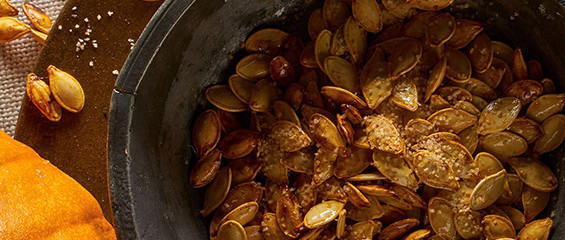 Roasted Pumpkin Seeds
Pumpkin seeds…there's always lots, so make more than one batch and play with the possibilities!!
 Ingredients:
8 c. salted water, we recommend about 2 Tbsp sea salt
2 c. pumpkin seeds
2 tsp. Olive Us olive oil (so many will work!)
A dash or two of Worcestershire
1-2 tsp. Olive Us Roasted Garlic Sea Salt
Or turn up the heat a little with Olive Us Sriracha Sea Salt or a lot with Olive Us Ghost Pepper Sea Salt or Scorpion Venom Sea Salt!
Instructions:
Scrape the seeds from the pumpkin and rinse in a colander to remove major chunks and strings. The seeds do not need to be completely clean as much of the flesh will come off in the boiling process.
Preheat your oven to 400° F.
Bring water to a boil and add sea salt with the pumpkin seeds. Boil for 10 minutes.
While seeds are boiling lay out some paper towels on a baking sheet or large cutting board for drying.
Pour seeds into a colander and rinse. Lay them out on prepared cookie sheets and top with paper towels, pat to dry.
Toss seeds in a bowl with olive oil and Olive Us Roasted Garlic Sea Salt or one of our many fusion sea salts.
Place on a foil lined baking sheet in a single layer and bake until they begin to brown, 10-15 minutes. Seeds change from a wet, grayish color to more of an opaque white as they become fully roasted.
Remove from the oven and top with a fresh sprinkling of Olive Us Roasted Garlic Sea Salt to taste.
Store in an airtight container.