The perfect addition to your vegan holiday table or any time you need a comforting weeknight veggie fix! Make sure to make the gravy so you have lots to go around on side dishes like mashed potatoes! The cauliflower can also be prepared several hours in advance and left in the fridge and then baked in the hour before serving.
Roasted Cauliflower:

Cauliflower Rub:
Mushroom Gravy (Vegan):
To make the gravy:
Over medium-high heat saute the mushrooms and shallots in the olive oil until lightly browned, about 8 minutes. Add the soy sauce, balsamic, garlic, thyme, and rosemary and sprinkle with flour. Cook for 2 minutes to lightly brown, stirring occasionally. Pour in the broth and stir to incorporate. Let simmer for about 10 minutes or until thickened to the desired level. Season with salt and pepper to taste.
To make the cauliflower:
Preheat the oven to 425F.
In a small bowl, make the rub. Set aside.
In a large, heavy bottomed baking dish or Dutch oven, toss the vegetables (other than the cauliflower)  and sausage with the olive oil. Spoon as much gravy into the bottom of the cauliflower as possible (about 1/2 cup). Place it on top of the vegetables in the Dutch oven. Rub the cauliflower all over with the rub, ensuring it goes into all the crevices. Put the lid on and bake for 20 minutes. Remove the lid, add the remaining 1/2 cup of stock, reduce the temperature to 375F and bake for another 30-35 minutes or until the top is golden brown and the cauliflower is just tender. Carve, top with gravy, and enjoy!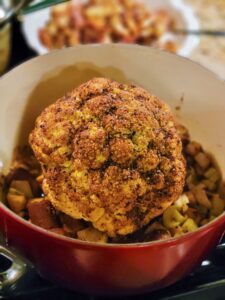 Gravy recipe adapted from https://www.loveandlemons.com/mushroom-gravy/.